2012-13  KNIT 1, 4 RELIEF
Knit /nit/ v. 1(trans) interlocking loops of wool or other fibers with knitting needles or with a machine * 2 (intrans.) become united.
(The New Oxford American Dictionary, Second Edition 2005)
This ongoing knitting project began during the immediate aftermath of Hurricane Sandy in October 2012. I organized a group of fellow artists and artisans from my local New York community to knit items for hurricane victims. Through my connections with other communities (Maine, Vermont, Utah, etc), I was able to bring more participants to the project. The project was linked to the art department then merged with other hurricane relief efforts already established by the Community Service Program at Columbia Preparatory School in New York City. The collection of handmade items – garments, blankets, scarves, hats and mittens were given to families devastated by the storm at The Village Academy, an adopted school in Far Rockaway, New York.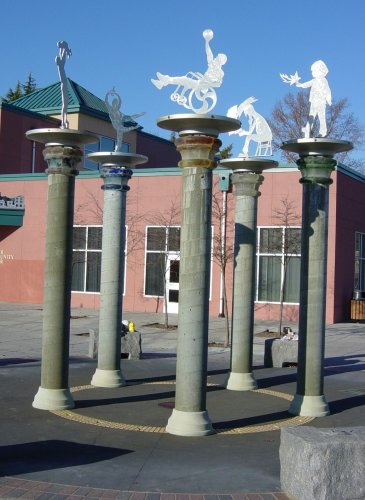 2000  RON K. BILLS MEMORIAL FOUNTAIN , Miller Park, Seattle, WA

Rene Soulard, Landscape Designer and Project Manager/Co-designer.
Fountain Description: Five concrete and glass columns capped with metal wind vanes with central fountain.  Five artists were commissioned to design the wind vanes.  My design was selected for the pillar representing the Arts. The fountain was nominated for "Best Neighborhood of the Year" and was awarded Honorable Mention in 2001.
All images and videos copyrighted © Kate Katomski 1993-2022